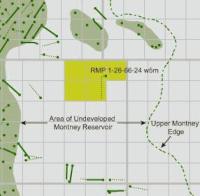 RMP Energy Inc. announce a strategic asset purchase and provide an operational update highlighting the results from a recently-completed Ante Creek Montney oil well in addition to Waskahigan and Grizzly area operations.
Ante Creek and Waskahigan Asset Purchase
On October 21, 2013, RMP entered into a definitive purchase and sale agreement to acquire complementary Montney light oil assets located in its core areas of Ante Creek and Waskahigan in West Central Alberta for total cash consideration of $38.0 million, subject to customary closing adjustments (the "Acquisition"). Closing of the Acquisition is anticipated to occur on or about November 1, 2013. The Acquisition will be funded through existing available bank lines, which are anticipated to be increased pursuant to the bank's semi-annual review of the Company's credit facility borrowing base. GMP Securities L.P. acted as financial advisor to RMP with respect to the Acquisition.