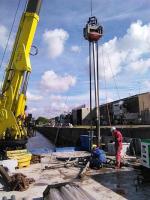 Since the summer of 2014, RMS Submarine have been supporting Briggs Marine Contractors Ltd. with the provision of full marine survey resource solutions (consultancy, project management, resourcing, personnel, final delivery and technical support) on a number of their recent survey project opportunities. To date, this has comprised supporting a total of seven projects (multibeam, geophysical, UXO and geotechnical) for nearshore UK surveys on a 12-hr (daylight hours) working basis.
RMS provided project support inclusive but not limited to, full tendering support, QHSE/ risk assessment, survey procedures, project management, equipment/ software spec and resourcing, consumables support, mobilisation preparations, full survey team, data acquisition & QC, data processing & interpretation, demobilisation support, full draft and finals deliverables (reports, charting, GIS and all raw/ processed/ geotif data & image formats). All project management and technical/ tendering support has been provided in-house and in full liaison and combination with Briggs at all times of the process.
RMS's ethos/philosophy of providing resources (personnel, equipment etc) from solutions that are known to the company ensure we maintain our own and Briggs high standards and expectations. Provision of balanced survey teams whom are adept at nearshore hands on working requirements are key to the success of such projects. Multiple personnel disciplines have been provided during this period of projects, with a mix of survey/underwater engineers, surveyors, data processors, CAD operatives, geophysicists, UXO processors and geotechnical operators & engineers.
Briggs states, "RMS have provided Briggs with excellent support on seven recent survey projects. Briggs has been able to utilise all elements of the RMS offering over the course of these projects. Personnel provided by RMS have been of a very high standard and have offered added value to our projects as well as being a delight to work with. Project planning and liaison with RMS has also been of a very high standard with an exceptional attention to detail coupled with extensive industry knowledge drawn from the senior team within the company."
"RMS approached Briggs, in particular the Marine Services division, during early 2014 with our resourcing solutions model," says Arron Burrows, Co. Director of RMS Submarine), "believing that our services would be of interest due to the changing landscape of the nearshore/offshore sector and the drive towards more project based solutions, reducing overheads and challenging in-house existing/ historical procurement routes for more cost effective, targeted and time sensitive results. This has proven to be the case this last 2 years with a blossoming relationship and whereby Briggs final delivery to clients has been acknowledged to be of an exemplary standard."