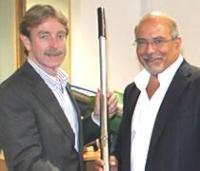 RMSpumptools has appointed Ted Boeri as vice president of global sales.
Mr Boeri will head up the Aberdeenshire-based company's Electrical Penetrator division. With over 30 years' experience in the industry and long-standing membership of the Society of Petroleum Engineers, he is a prominent figure within the sector.
Commenting on his appointment, Mr Boeri explains: "The move to RMSpumptools was driven by two main factors - technology and flexibility. As the challenges in oil production increase, so the technology needs to stay one step ahead. RMSpumptools' work in this area and the overall vision the company has for future development convinced me to come on board. With their products already setting the benchmark and others set to change the face of ESP Artificial Lift applications, the company is at the pinnacle of the sector's innovation.