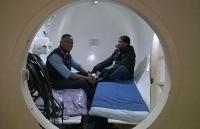 Robert Gordon University (RGU), Scotland, is working closely with industry partner, The Underwater Centre, to incorporate a commercial diving familiarisation course as part of its MSc Subsea Engineering and MSc Offshore Oil and Gas Engineering courses.
The Centre is delivering theoretical sessions covering diving physics, diving physiology, gases and diving systems, diving regulations and ROV intervention using the extensive facilities and subsea equipment.
The latest students to benefit from this industry collaboration, Felix Daboner and Joseph Adele, visited the Centre in Fort William last month to complete the week-long course, "The Oceans, Operability and Humans In The Ocean".
Felix Daboner, who is undertaking one of the MSc Oil and Gas Engineering courses, comments, "The visit to The Underwater Centre was hugely beneficial in that it allowed us to see and experience everything involved in commercial diving. The facilities and equipment they have at the Centre are all exactly like you would find offshore so it was great to be able to get a bit of hands on experience."
Each day began with classroom based theoretical training sessions before visiting the Centre's various dive sites including the Surface Supplied Nitrox Diver Training Site, Surface Supplied Diving Sites and finally the Saturation Diver Training Barge.
The students also toured the Centre's Recompression Chamber facility and ROV training spread. This practical exposure reinforced the theoretical training making it a unique learning experience for RGU's students.
Joseph Adele adds, "Trip was exciting and interesting. It really exposed me to the reality of my course of study-subsea operation. It was a well thought program – the lecturers, and the support staff at The Underwater Centre were really professional and supportive."
The courses combine academic engineering study with current, real-world industry practice. This is achieved by combining the strengths of the School of Engineering's full-time staff with the knowledge and skills of industry specialists and visiting lecturers, providing access to world-class teaching and research.
Rob Collins, Logistics & Training Co-ordinator at RGU's School of Engineering, says, "We are delighted to be working with The Underwater Centre to help bring the world of subsea engineering alive for our MSc students. The feedback that we have had from students attending the Centre has been really positive and it is great for them to be able to experience the practical side of what we are teaching on the course."
Steve Ham, Commercial Director at The Underwater Centre, adds, "We're delighted to be able to support the students by providing hands-on and realistic exposure to the subsea industry. We believe by partnering with universities, like RGU, we can provide that important experience that helps further add to the students' training."