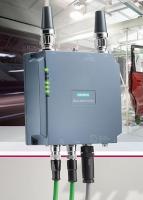 Siemens is extending its Industrial Wireless LAN (IWLAN) portfolio to include a selection of rugged new IP65 protection-rated devices in the form of Scalance W778 – 1 M12 access points and W738 – 1 M12 client modules. Their compact design creates scope for flexible, space-saving mounting, and in both hardware and firmware terms, they are ideally suited to cope with harsh industrial environments. These high-powered access points and client modules transmit in compliance with WLAN standard IEEE 802.11n, and support the 2.4 and five GHz frequency band. The flexible devices can also be integrated into the TIA environment, and are ideally suited for wireless local networking of equipment such as welding robots or screw driving controllers in the automotive industry.
With their compact design, Scalance W778-1 M12 access points and W738-1 M12 client modules are ideally suited for cost-effective, cabinet-free installation in harsh industrial environments. This tough exterior is provided by a rugged die-cast aluminium housing compliant with protection rating IP65 and screwed plug connectors, which lend the devices a high level of resistance to shocks and vibrations. The wide-ranging installation options include a flat DIN rail mounting with a DIN rail adapter, a vertical side DIN rail mounting with an angular adapter or wall mounting. Mounting is simplified still further by the ability to connect the power and data flow to the IP65 devices over a single cable using Power-over-Ethernet (PoE) IEEE 802.3at, minimising the wiring work required and cutting commissioning time. Their industrial-duty design allows them to be quickly and simply integrated into the overall TIA environment. With 2x2:2 MIMO, they provide data rates of up to 300 Mbit/s, and are also fitted with N-Connect antenna terminals, two M12 Ethernet ports (10/100 Mbit/s, D-coded) and a redundant 24-volt M12 power supply connection.
The extensive range of direct and remote mount antennas (omnidirectional, directional or sector antennas) as well as RCoax including accessories (such as cables, plug-in connectors or fixtures) is available in a variety of protection ratings, and completes the IWLAN portfolio from Siemens. Possible areas of use include any kind of industrial application in which wireless on-site networking is required – for instance for networking welding robots or screw driving controllers in automotive production, or connecting Automatic Guided Vehicles (AGVs) to a control system. Like all the products of the Scalance portfolio, the devices come with special software features (iFeatures) for industrial applications. These include iPCF, iPCF-MC for client operation, iPRP and iREF.