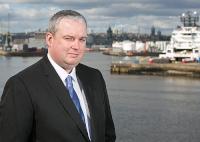 International lubricants manufacturer ROCOL has made a key appointment to support its growth objectives in the North Sea oil and gas market. Martin Simpson joins the UK-based business as sales engineer for the offshore and marine sectors, with responsibility for the UK and north-west European market.
ROCOL, which has manufactured high-performance lubricants for more than 130 years, supports an international portfolio of customers from a network of 12 offices worldwide.
Brendan Kendrick, business development director at ROCOL, says, "It's great to have someone with Martin's industry experience and technical expertise on board. His appointment serves to deliver great value to our end users and significantly strengthens the  support available to our network of distributors."
Aberdeen-based Martin previously held business development and technical roles with service companies including Balmoral Offshore Engineering, PK Hydraulics, Hydrasun, Viking Seatech and Craig Group.
Martin says, "I'm looking forward to applying my technical knowledge and business development background to help our end users reduce costs by providing guidance and advice on how our products can extend the life of costly wire rope and associated products. Our specialist solutions, such as BIOGEN WIRESHIELD, are an established feature of modern-day offshore operations and one of my priorities is to help introduce their benefits to an even wider range of prospective customers."