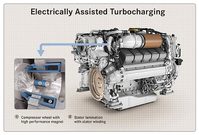 Rolls-Royce has acquired from G+L innotec the exclusive rights of use for a new technology for the electrically assisted charging of off-highway combustion engines in the power range above 450 kW. The new invention from the development and engineering services provider based in Laupheim in southern Germany is protected by patents and has thus not been available on the market to date. Rolls-Royce plans to offer engines of its MTU brand with this technology as of 2021. "Electrically assisted charging is a milestone on the way to the hybridising of the engine. Using this technology, it will be possible for us to develop agile, low-consumption engines," says Dr Johannes Kech, Director of Development Turbocharging & Fluid Systems at MTU. MTU and G+L innotec will complete the next stages of development on the basis of a close partnership.
The electrically assisted charging system comprises an electric drive combined with a traditional turbocharger developed and manufactured by MTU. As a result, the turbocharger can be accelerated electrically and the charge pressure built up earlier. In operating conditions, in which the energy required for a faster charge pressure of the turbine would normally not be sufficient, it is also possible to build up with the aid of the electric drive. Using the technology developed by G+L innotec, MTU will be able to increase the acceleration capability of marine engines, for example, and also the load response capabilities of generator drives significantly. In addition it will also be possible to reduce the engine's fuel consumption and emissions in a variety of different applications. Due to the increased load response capability, emergency standby gensets will be able to deliver their full output even faster than was previously the case. This technology is ideally suited to diesel and gas engines.
To provide the turbocharger with electrical assistance, a permanent magnet is installed upstream of the compressor wheel and the electrical winding is integrated into the casing of the compressor. With this arrangement, the air drawn in by the compressor is not obstructed and at the same time the electrical components are cooled by the air. The special feature of this arrangement is the large gap between the magnet and winding. This so-called media gap motor requires specially designed power electronics. This ensures that there is no aerodynamic impact on the charger and also that existing chargers can be adapted easily to enable them to make use of this technology.
On the basis of a development collaboration agreement with G+L innotec, MTU has equipped turbochargers with this electric drive and has carried out component tests to determine its possible potential. In the next stage, the two partner companies will prepare the new products for series production, so that as of 2021, MTU will be able to launch engines equipped with this technology on the market. The first areas of application suitable for these engines include ships, emergency gensets and land vehicles.