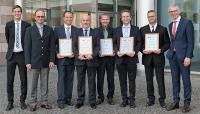 Rolls-Royce Power Systems has honoured its five best suppliers for outstanding performance in quality, logistics, environmental protection and cooperation in 2015. For the 10th year in a row, Rolls-Royce Power Systems has commended the top suppliers of its subsidiaries MTU, L'Orange and MTU Onsite Energy, choosing from a total of 495 candidates from around the globe.
CFO Marcus A. Wassenberg states, "Our suppliers make a valuable contribution to product quality, substantially bolstering the competitive position of our engines and gensets, and consequently that of the entire company. Trusted partnerships with our suppliers are of great importance to Rolls-Royce Power Systems."
For the third time, Harz Guss Zorge from Lower Saxony, Germany claimed the title of best supplier of unmachined parts. The company produces cylinder heads, exhaust elbows and engine mounts. The UK's Helical delivers valve rotators and took the award for best supplier of finished parts. Based in Haan, North Rhine-Westphalia, Germany, resilient coupling and drive shaft manufacturer Centa was the rising star of 2015. Rolls-Royce subsidiary L'Orange, which produces injection systems, awarded its prize for best component supplier to Zsnojemské Strojírnsi from the Czech Republic. The company manufactures machine components and assemblies. The award for the best MTU Onsite Energy supplier went to Hotstart from the US for its engine preheating systems. All these winners can look back on over ten years of successful cooperation with Rolls-Royce Power Systems.
"This award pays tribute to our suppliers and is seen as a valuable reference which they're happy to show to their other clients," says Purchasing Director Erik Manning, who presented the Supplier Award. With a scope totalling 59,000 different production components sourced around the world every year, Rolls-Royce Power Systems depends on reliable performance from its suppliers in terms of quality and logistics and attaches great importance to cooperative partnerships. The suppliers make a fundamental contribution to the success of the final product and the Supplier Award is an expression of our appreciation.