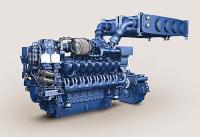 Rolls-Royce will be presenting new MTU brand propulsion systems designed to meet IMO III and EPA Tier 4 emission regulations for commercial, off-shore and military vessels and yachts, at the SMM International Maritime Trade Fair from 6 to 9 September 2016. "With the introduction of our new and advanced diesel and gas engines, in addition to our proven and robust propulsion systems, we are now offering our customers in the maritime industry the latest green and high-tech developments for the coming decades," says Dr Ulrich Dohle, CEO of Rolls-Royce Power Systems AG. Rolls-Royce will also be presenting its current portfolio of medium-speed marine engines, bridge systems and propellers on Stand 305, in Hall 3A.
With a number of technical advances incorporated in the turbocharger system, the combustion process and in the fuel injection system, MTU will be marketing Series 4000 engines as of 2018 that have now been further optimised and will deliver increased performance (1,380 to 3,200 Kilowatt) for work boats, off-shore vessels, ferries and government vessels. A 20-cylinder version is to be launched for the first time for these applications. With the new SCR exhaust gas aftertreatment system, which has also been developed by MTU, the advanced engines will meet IMO III and EPA Tier 4 emission requirements. This will reduce NOx emissions by around 75% and particulate emissions by around 65%. An additional diesel particulate filter will not be required. The Series 4000 engines for yachts will be slightly modified and marketed with MTU's SCR system, which will meet IMO III regulations as of 2017.
With the integrated system for IMO Tier III and EPA Tier 4 consisting of MTU's propulsion system and SCR exhaust gas aftertreatment system, the customer will benefit from an optimally matched system. It requires a minimum of installation space and features an excellent power to weight ratio. The exhaust gas aftertreatment system is extremely compact due to the integration of the reactant preparation section in the SCR box. MTU's SCR system is not preset as is usually the case, but is adjustable. It measures the emissions upstream and downstream of the SCR system and precisely regulates the amount of reactant introduced into the system.