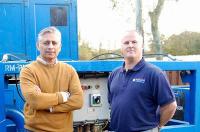 ROMAR International, an Aberdeen based provider of magnetic separation products and oilfield services, has boosted its team with two key appointments.
Mark Bullmore and Zander Duncan join the team as Operations Manager and Workshop Supervisor respectively.
Mark takes up the role following a career spanning 23 years as Chief Technician in the Royal Air Force where he was tasked with supervising the maintenance and rectification of the daily flying program. This involved liaison with all trades to ensure timely completion of tasks, as well as overseeing 32 technicians.
In his secondary role as mobility officer he was responsible for the logistical planning for large projects; organising up to 110 staff and 12 aircraft movements to ensure operations commenced immediately on arrival, anywhere in the world.
Mark was the Maintenance Manager for Halliburton where he looked after the PPS fleet of equipment for the UKCS and Europe. He has also held many other management appointments giving him a rounded and varied experience that he brings to ROMAR.