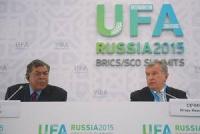 Rosneft Chairman of the Management Board and Essar Group Founder Shashi Ruia signed a long-term contract for oil supplies for the purpose of refining at the Vadinar refinery (India).
The document was signed in Ufa within the BRICS summit in continuation of the agreements, reached in 2014 during the visit of the President of the Russian Federation Vladimir Putin to India.
The contract envisages total supplies of 100 mln tones of crude oil over a period of 10 years.
Rosneft expands market outlet and amplifies the volume of supplies to the region, where growing points of the world's economy are concentrated. Thanks to this agreement Rosneft grants itself a secure market outlet of crude oil, which will create an additional possibility of production planning and marketing.
Moreover, Rosneft and Essar shareholders signed a Term Sheet with regard to Rosneft's participation in the Vadinar refinery equity capital with a share of up to 49%. The principles laid down in the Term Sheet, will be reflected in final documents, which are subject to approvals.
Rosneft participation in the refinery's equity capital will allow Rosneft to obtain a share in one of the biggest refineries in India and the Asia-Pacific region. The refining capacity of the Vadinar refinery is 20 mln t PA. The deal also includes marketing business whereby Essar operate a retail chain of 1600 stations located in India. From this base the parties intent to further develop both refining and marketing businesses in India.