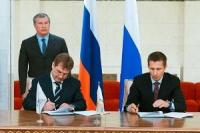 Itera Oil and Gas Company, a Rosneft subsidiary, signed long-term contracts on natural gas supply with leading industrial companies of Sverdlovsk Region: Nizhny Tagil Metallurgical Plant (EVRAZ NTMK) and Kachkanarsky Ore Mining and Processing Plant (EVRAZ KGOK), both EVRAZ Group companies.
The agreements were signed during a working visit of Chairman of Rosneft Management Board Igor Sechin to Yekaterinburg.
The signed agreements provide for supplies of natural gas in a volume around 14 bcm of gas to the companies of EVRAZ Group, effective from January 1st, 2016 for 10 years.
Commenting on the signed documents, Rosneft's Board Chairman Igor Sechin said, "Rosneft is one of Russia's largest independent gas producers. The Company's resource base enables us to increase gas production steadily. New agreements with EVRAZ guarantee long-term monetization of crude materials produced by Rosneft subsidiaries."