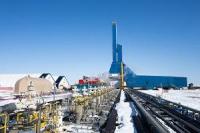 Rosneft produced 2 millionth ton of oil since the production start at the Northern Tip of Chayvo field in 2014.
The Northern Tip of Chayvo field is located in the Sakhalin shelf area.
Currently, oil at the field is being produced from three extended-reach wells that are about 10 km deep and have the total daily production of more than 6,000 t. Construction of the 4th well is being implemented.
Overall, during the first stage of the Northern Tip of Chaivo Field project it is planned to create a stock of five inclined extended-reach wells. Yastreb, one of the world's most powerful onshore land rigs, is used to drill the wells from the onshore site.
Next year, it is planned to complete the onshore sites to increase production.
All the oil produced at the field is shipped with oil tankers from the De-Kastri Terminal in Khabarovsk Region. The associated gas is sold at the domestic market to the consumers of the Russian Far East.