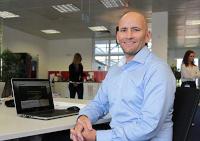 A new subsea company has been officially launched with the announcement of its first UK contract. An independent company focussed on underwater integrity, remotely operated vehicles (ROVs), surveying and subsea services for both oil and gas, and renewables, Rovco has secured a contract with a UK Marine Trust.
Headquartered in Bristol, the new, privately funded organisation aims to become a leading ROV and inspection company within the next 3 years, with expertise and capacity to carry out underwater inspection projects across the globe. The company is also about to embark on its second underwater survey project in partnership with a south-west diving company.
Led by chief executive and founder, Brian Allen, Rovco will take a unique approach to technical subsea challenges by offering a high quality, cost effective solution for underwater hydrographic survey and inspection services, using high resolution state-of-the-art 4K cameras, and 360 degree scanning sonars.
With over 15 years' experience in the subsea industry, Brian previously managed multiple ROV systems on construction, inspection and lay vessels as a superintendent for Deepocean.
He says, "After many years of working in the industry and being aware of how adopting new techniques could significantly reduce subsea operating costs and increase efficiency, I decided it was time to set up Rovco and do just that. Our independence, global capabilities and focus on subsea integrity will be what differentiates Rovco from what is currently being offered in the marketplace."
"In this low oil price environment, our clients are looking for lower cost subsea services while still maintaining a high focus on safety and quality. We believe in running a competitive business model that meets these expectations and provides the best ROV pilots the industry has to offer."
With a fleet of 10 ROVs, Rovco has the resources required to provide inshore/offshore services and inspections anywhere in the world.
"A single diver led subsea inspection would typically involve a minimum team of five, with a catalogue of limitations and regulations to follow. Using an ROV is safer, easier, cheaper and guarantees the collection of higher quality information and data. Utilising the latest 4K cameras on the market, we can provide the highest quality images in the industry, with accurate positional information, no decompression, and no risk to the people involved, in even the world's most challenging seas."
Rovco has been backed by Entrepreneurial Spark powered by Natwest, the world's largest free business accelerator programme for new and growing ventures. The company is also a member of Subsea UK, the body which supports and represents the GBP 9 billion British underwater industry, promoting it at home and abroad.
Neil Gordon, chief executive of Subsea UK says, "Rovco has launched at a time when a number of companies are feeling the strain of the sustained low oil price, however the company's business model is built around exactly what the industry needs to overcome these challenges. There is a cluster of subsea companies in the South-west of England and Subsea UK is committed to supporting and promoting this expertise to the subsea supply chain at home and abroad."