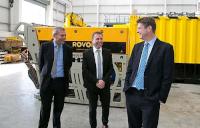 Independent subsea remotely operated vehicle (ROV) service provider ROVOP has announced over USD 4 million of contract wins spanning the North Sea, Gulf of Mexico, West Africa and Europe.
The company, which was visited by The Rt Hon Greg Clark MP during his first visit to Aberdeen in his role as the Secretary of State for Business, Energy and Industrial Strategy, has been awarded several new contracts across the oil and gas and offshore wind sectors.
The contracts are with several new clients across a number of sectors and include construction support, cable lay and protection, survey and inspection repair and maintenance (IRM).
CEO of ROVOP, Steven Gray, says, "I am encouraged by the contract awards and continued positive momentum in increasing both our client base and future pipeline of work. As a result of these awards, we are increasing our offshore workforce across both Aberdeen and Houston. It's clear that the market remains challenging; however, ROVOP continues to win work by focussing on saving cost for our customer. ROVOP has invested heavily since its inception in recruiting the best people and the most advanced ROV technology. Our commitment to providing a focused and dedicated ROV service remains a key differentiator in our marketplace."
"We were delighted to welcome the new Secretary of State for Business, Energy and Industrial Strategy Greg Clark to our Aberdeen facilities today, which allowed us to outline our full service capabilities and briefly detail our key target markets in which we operate – oil and gas, offshore wind, telecoms and power transmission industries. This followed a similar visit two weeks ago by Paul Wheelhouse, the Scottish Government Minister for Business, Innovation and Energy," adds Gray.
"The continued prolonged market downturn has been significant. However, this downturn will undoubtedly create opportunity for those companies who address the current challenges and adapt to the new market environment. This flexible approach, along with looking to increase cost efficiencies to clients should ensure we continue to be well positioned in our target markets going forward," concludes Gray.