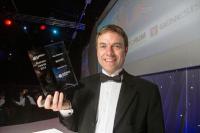 The business success of subsea specialist ROVOP has been industry applauded after the company won the New Enterprise accolade at last night's (Wednesday 5 February) Subsea UK business awards.
Subsea UK's coveted New Enterprise award, which represents the fourth industry accolade that ROVOP has won, recognises the success of the business in the subsea sector including overall vision, commercial performance to date and market differentiation.
ROVOP, an independent company which is 100% focused on providing remotely operated vehicle (ROV) services to the oil & gas and offshore wind industries, has experienced exceptional growth since its inception with its team growing to more than 70 people within three years and more than 80% of business being overseas during 2013.