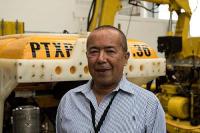 Independent remotely operated vehicle (ROV) provider ROVOP has been awarded GBP 3 million worth of new contracts, which sees the company expanding into two new territories.
For the first time ROVOP will complete projects in South East Asia and Mexico, signalling success for both its Aberdeen and Houston bases.
The company has also announced the appointment of Neil Francis as Vice President of Business Development in Houston.
Neil brings over 20-years of ROV experience to the role, having held various commercial and operational positions, and will drive and lead ROVOP's business growth in the US.
Chief Executive, Steven Gray, says, "The market remains challenging but our ability to save operating costs for our customers, while using the best equipment and personnel on the market, means we continue to enjoy regular contract wins. These awards further encourage the successful establishment of our Houston office last year and build on the completion of several workscopes in the US Gulf of Mexico and Central and South America over the past three years."
"ROVOP has reduced its pricing to ensure we are competitive and meet our client's requirements in this challenging market. The challenge the industry faces should not be underestimated but we are working to reduce costs for customers by reducing vessel time and increase efficiency," adds Gray.
Commercial director, Euan Tait, explains that the addition of Mr Francis to the ROVOP team will be key: "Neil's appointment will act as a catalyst for our future ambitions. He has exceptional experience and knowledge of the industry. His role as Vice President of Business Development will further improve our reputation of providing excellence to our customers and is an important part of our plans to step into new territories to further strengthen our position."