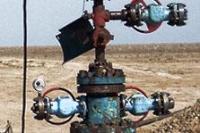 Roxi has a 58.41% interest in the BNG Contract Area, which is located in the west of Kazakhstan 40 kilometres southeast of Tengiz on the edge of the Mangistau Oblast. The Contract Area covers 1,561 square kilometres of which 1,376 square kilometres has 3D seismic coverage acquired in 2009 and 2010. Roxi resumed full control of BNG Ltd LLP in the second quarter of 2011.
The Contract Area has both shallow and deep prospects, which Roxi is funded to explore and develop following the US$40 million equity funding commitment in January 2013.
Shallow wells
Roxi is pleased to announce that Well 807, which is targeting Cretaceous Limestone and Jurassic Sandstone, has reached it revised total depth of 2,301 meters and an oil casing string has been set and cemented.