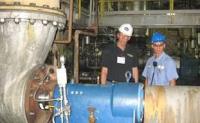 Premium synthetic industrial lubricant manufacturer, Royal Purple® offers an industry-first training program as part of its value added services to provide industrial facilities with personalized training and education to significantly reduce costs and improve efficiency.
First developed in 2004, Royal Purple's training courses are offered to any industrial facility throughout the U.S. at little to no cost, regardless of the brand of lubricants currently in use.
The program is designed to educate and train maintenance personnel and equipment operators in industry best in class practices and procedures that help improve worker efficiency, increase equipment reliability and reduce reactive maintenance. Training is not tied in any way to the sale of Royal Purple products and focuses solely on providing facilities with practical knowledge and encouraging changes that produce immediate, significant benefits and improvements in as little as one day.