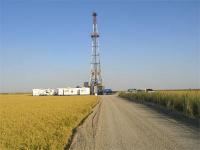 Royale Energy, Inc. has reached an agreement to drill up to 30 wells in the Ballinger Oil Field in Runnels County, TX with three initial wells to be drilled immediately into the Ellenberger formation.
Current production in the field comes from the Palo Pinto North formation and the current interval of oil production is at 3,400 ft. which is a limestone with both primary, secondary and fracture porosity zones. From an estimated 4.75 million barrels of oil in place only 350,000 have been produced to date. Existing well spacing points to a significant potential for infill drilling by either vertical or horizontal wells, to produce the proven oil accumulation that was not accessed by the initial field development.
Additional potential estimated at over 6 million barrels of oil and 7.6 BCF of gas with an estimated 20% recovery exists in other formations below the Palo Pinto North that include the Cross-cut sandstone at 3,500 ft., the Upper Capps Fm., at 3,700 ft., the Jennings Fm. at 4,000 ft. and the Gardner Fm. at 4,100 ft., that are all potentially prospective sandstone or limestone lithofacies that either lie behind pipe in the existing wells or have not been penetrated over most of the acreage. All these formations have produced oil at various locals in the surrounding acreage and will be targeted in all of Royale's future drilling.