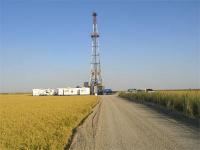 Royale Energy, Inc. says that its McKinney well has been put into production at a stabilized rate of 1,050 MCF of natural gas per day with a pressure of 2,700 psi.
The company is also conducting a series of workovers and recompletions on some of its existing production. On September 25th the Victor Ranch 3-20 was recompleted in a new zone and is currently producing over 400 MCF per day. On October 16th a workover on the Andrus Island well resulted in an increase of 240 MCF per day.
The company's Jewel well was also recompleted in a shallower zone. A total of 15 ft of formation was opened in the new zone and the well increased to a stabilized pressure of 2,500 psi.