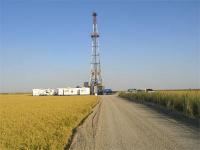 Royale Energy, Inc. announced that its Victor Ranch 3-20 well was drilled to a total depth of 5,555 ft. Three separate seismically defined target zones were encountered and electric logs indicate natural gas potential in all three zones.
The deepest natural gas sand has been completed and put into production at 200,000 - 300,000 cubic ft. per day.
Victor Ranch is where Royale Energy has discovered the most natural gas in its history.