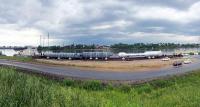 Russia-based project logistics provider RTL LLC organised delivery of oversize equipment for the modernisation of the PJSC Gazprom Neft Moscow refinery. To execute this project, the specialists at RTL developed an optimised route to transport four oversize cargoes – which had a combined weight of 785 tonnes – from Izhorskiye Zavody's plant in Kolpino, Leningradskaya region to the Moscow refinery.
Initially, the units were transported from Izhorskiye Zavody's plant by heavy-duty vehicles to a pier built by RTL specialists on the River Neva. The route was particularly challenging, passing through towns and over two railway crossings. To traverse the railways required the disconnection of high-voltage transmission lines and alterations to train schedules. Furthermore, RTL was responsible for strengthening the road surface to guarantee the safety of the consignment.
Upon arrival at the bespoke pier, the loading and securing of the cargoes onto a heavy-duty barge took two days to complete. The equipment was then shipped to Moscow via Russia's extensive inland waterway network, routing via the River Neva, the Ladoga Lake, Volga-Baltic canal, White Lake and the Sheksna River, Rybinsk reservoir, the Volga River and the Moscow canal.
With the project coming close to completion, the final stage will see the four cargoes moved to their final installation site at the Moscow refinery.
In 2011 PJSC Gazprom Neft started a large project to modernise its Moscow refinery, removing outdated production facilities and actively introducing modern industrial complexes. Over the past five years, the impact of production on the environment has been reduced by 50%. Investment in the programme has reached RUB 75 billion (approximately USD 1.12 billion).
Gazprom Neft aims to complete the modernisation programme in 2020, establishing the Moscow refinery the best oil refinery in Europe on product quality, energy efficiency and environmental characteristics.
Improving and care for the environment, especially in large cities, requires constant effort of all those in society; this became RTL's leitmotif for the project.