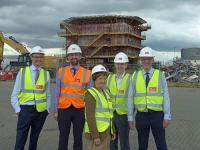 A national town planning expert witnessed "economic history" at Great Yarmouth's Outer Harbour when he was given a guided tour by Great Yarmouth Borough Council, focusing on partnership work to capture new jobs and growth in the area.
Stephen Wilkinson, President of the Royal Town Planning Institute (RTPI), visited the borough to find out more about how the borough council is working proactively with partners across the public and private sectors to support growth and job-creation.
As part of his visit to England's offshore energy sector capital, Wilkinson visited the deep-water Outer Harbour, where Veolia-Peterson's new GBP 1 million decommissioning facility has recently received its first gas rig parts for dismantling and recycling.
He also had the chance to get up close to the turbine parts for the GBP 1.5 billion Galloper Offshore Wind Farm, being constructed by innogy SE. Thanks to a GBP 7 million co-investment in the port, led by Peel Ports Great Yarmouth, the Outer Harbour is the base for both Galloper and the GBP 2.5 billion East Anglia ONE offshore windfarm, developed by ScottishPower Renewables.
Wilkinson says, "A strategic, joined-up approach to planning and economic development is critical to deliver fairer, more coordinated economic growth. I was pleased to see how the council closely aligns strategic planning with economic development and inward investment to deliver a wide variety of projects. The council is also working with the Local Enterprise Partnership , County Council, Port and others, allowing the council's planners to maximise opportunities for sustainable growth, regeneration and job-creation."
Cllr Graham Plant, the council leader, says, "We were pleased to welcome the RTPI delegation to Great Yarmouth to showcase our proactive partnership work to support growth, jobs and prosperity for our businesses and communities. The Outer Harbour is just one example of this."
"The visit was well timed to capture a bit of economic history, with the Outer Harbour supporting simultaneously, for the first time, a large-scale offshore wind project and a major decommissioning project, both representing major growth areas for the borough," adds Plant.
As part of the tour, Wilkinson visited the flagship Enterprise Zone at Beacon Park, where Great Yarmouth Borough Council is delivering a landmark GBP 7.7 million headquarters for energy business Proserv, keeping 190 jobs in the borough and providing capacity for further expansion.
He also visited Great Yarmouth town centre and found out more about the borough council's Town Centre Masterplan, an exciting commercially-realistic vision to enhance the historic town centre for the 21st century as a destination where more people choose to live, work, invest and spend their leisure time and money.
In addition, Wilkinson found out more about the compelling case for funding for the Third River Crossing, the significant highways investment planned for key junctions and links between the railway station and town centre, and plans to boost Great Yarmouth seafront.
The RTPI represents over 24,000 members worldwide and shapes planning policy, raises professional standards and are the only body in the UK to confer Chartered status to planners, the highest professional qualification.