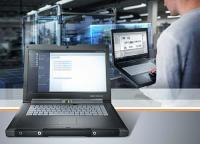 Siemens has equipped the latest generation of its rugged, ready-to-run industrial notebooks with a multitude of practical functions for mobile engineering. The Simatic Field PG M5 programming device has been designed with pre-installed Simatic TIA Portal (Totally Integrated Automation) engineering software for fast and efficient configuration, commissioning, service and maintenance, as well as for engineering work in technical bureaus. There are two versions of the new notebook with robust hardware for mobile use in industrial plants: The Comfort version is equipped with an Intel Core i5 processor, the Advanced version with a more powerful Intel Core i7 processor. The Advanced device can also be configured with the interfaces of the previous Simatic S5 controller generation.
The new Simatic Field PG M5 has on board all the interfaces required for the efficient engineering of industrial automation applications: For example, one Profibus and two Profinet interfaces for connection to the automation process, as well as four USB 3.0 interfaces. Simatic memory cards can be programmed directly on the industrial notebook through the Simatic Card Reader interface. The Simatic Field PG M5 is delivered ready-to-run with pre-installed Simatic engineering software. It has also been optimised for engineering with the TIA Portal – for the current and previous generations of Simatic controllers and HMI (Human Machine Interface) devices.
The high-quality Simatic Field PG M5 programming device has been developed and manufactured in Germany. It is made of specially selected materials and has been designed for use in machines and plants in a harsh industrial environments. The lightweight, robust and fully shielded cast magnesium enclosure offers protection against electromagnetic interference. Bumpers on exposed parts of the housing and rubber buffered corners protect against shocks and vibrations. This makes the device resistant to, for example, vibrations and radiation from frequency converters. The stable, retractable carry handle provides a safe grip during mobile use. The keyboard is dirt-resistant with abrasion-proof, laser-cut key labelling. The brilliant, anti-reflection, powerful 300 cd (candela) bright, high-resolution 15.6 inch full HD widescreen display offers high sharpness and luminance irrespective of the angle of view.
The Simatic Field PG M5 is equipped with a fast DDR4 work memory of up to 32 gigabyte and an impact-resistant, fast, exchangeable, solid-state technology mass storage device of up to 1 terabyte. The space-saving, three-pole power supply unit is supplemented by a powerful accumulator with sophisticated accumulator management and a smartphone charging concept: In off-mode, the Field PG can be used as a power bank. Integrated TPM (Trusted Platform Module) data security functions and WoL (Wake on LAN) and iAMT (Intel's Active Management Technology) increase the level of security when using the hard disk and simplify remote administration in the company network.