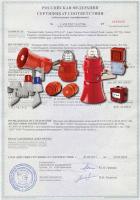 E2S Warning Signals recently renewed its Russian Fire Certificate applying to a series of popular products.
The extended Certificate of Conformity to GOST 53325 -2012 issued by Fire Safety Technologies, the independent Russian Approval authority, is valid until July 2018 and is applicable over 50 different explosion proof, intrinsically safe and general industrial product versions from the comprehensive E2S portfolio.
Alarm horn sounders, L.E.D. strobe beacons, combined audible-visual warning units, PA loudspeakers and manual call points comply to the Russian standards, giving fire system designers, integrators and installers the widest choice and assurance.