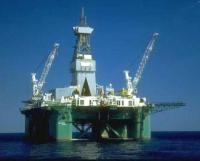 RWE Dea Norge commenced drilling a well at production license (PL) 420, to appraise the Titan discovery. Recoverable volumes are estimated at approximately 12 million standard cubic metres oil equivalents. It is the first of two wells to be drilled on PL420 this year.
RWE Dea Norge has contracted the semi-submersible rig Leiv Eiriksson to drill well 35/9-11 S on Titan (PL420) in the North Sea. A promising discovery was made on the license in 2010. The complexity of the reservoir necessitated the collection of new 3D seismic data in 2012. Following interpretation of the data, the decision to drill was made.
The appraisal well will be drilled at a water depth of 370 meters and is expected to be completed in 60 to 120 days, depending on results. The primary target is the Brent Group at approximately 3,770 meters below sea level, with secondary targets in the Heather and Cook formations.