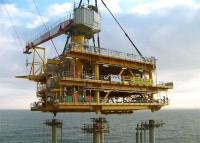 RWE Dea UK has started gas production from the Breagh gas field located in the UK Southern North Sea. The first three wells brought into production had an initial total flow rate of 2.75 million cubic metres of gas per day. Total reserves of the Breagh field are estimated at approximately 19.8 billion cubic metres.
Breagh is one of the largest natural gas discoveries under development in the UK sector of the Southern North Sea and the largest RWE Dea operated field development project in the United Kingdom. The company has a 70 per cent stake in the licence (Sterling Resources UK the remaining 30 per cent). 'Breagh is very important in the context of achieving our company's growth targets as this field will make a major contribution towards boosting RWE Dea's gas production,' explains Thomas Rappuhn, Chief Executive Officer of RWE Dea AG. 'We're all the more delighted to be able to start up production at this point,' adds Rappuhn.
During Phase 1 of the field development project, RWE Dea expects an average annual production volume of 1.1 billion cubic metres from 2014 to 2018. A peak production level of about 4.0 million cubic metres of natural gas per day is anticipated in early 2014. By investing in the Breagh field, the company is underlining its long-term commitment to operations on the British continental shelf.