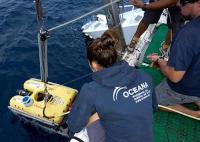 Investment in new technologies sees Saab Seaeye, the world's largest manufacturer of electric underwater robotic systems, launch a recruitment drive to find software and electrical engineers at all levels, including senior engineering management, for their Fareham, Portsmouth, Head Office and manufacturing base.
With markets in oil and gas, renewables, hydro engineering and marine science, amongst others, Saab Seaeye has been established for over 30 years and has offices in Sweden, America and the UK, and is part of the Saab Group.
Increased investment comes as rapid advances in miniaturisation and control architecture are creating smaller, smarter robotic systems that are more agile, more powerful and are bringing advanced technology and efficiencies to an ever widening range of complex tasks across many different market sectors.
Saab Seaeye says engineers will join a company with a worldwide reputation for pioneering engineering that has long led the industry with cutting edge designs and technologies.