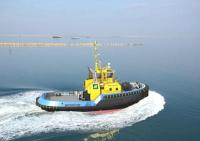 SAAM SMIT Towage, the joint venture between SAAM S.A. of Chile and Dutch company Royal Boskalis Westminster N.V., has signed a contract for the purchase of a Damen Tug 2913 for delivery in early 2016. This is the first new tug to be purchased by SAAM SMIT since its establishment in July 2014.
The joint venture operates in Mexico, Brazil, Panama and Canada, and the new ASD 2913 will add a new level of versatility and capability to its fleet. It will be based initially in Panama. The tug was already currently under construction at Damen Shipyards Galati in Romania as part of Damen's policy of building for stock. This will allow her to be delivered in around six months from the signing of the contract.
The ASD Tug 2913 has been designed primarily as a compact, highly manoeuvrable and powerful tug, ideally suited for busy harbours and waterways where space is limited, as well as for more general operations in open water. With a bollard pull of 80 tonnes it can handle the largest vessels, and has a double hull to comply with the latest regulations. The vessel for SAAM SMIT will feature a number of Damen options including fire-fighting (FiFi1) capability. This is the third of the new ASD Tug 2913 series to be sold, with the first being delivered in February 2015 to Petersen & Alpers for service in Hamburg.