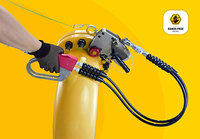 Site and Operator Safety is an ever increasing concern and fundamental consideration for all companies, in all industries, globally.
Within any sector where operators and technicians are working on controlled bolting applications, the risk of pinched fingers and dropped object related injuries is exceptionally high. These risks must be recognised and dealt with appropriately to enable preventative injury strategies to be implemented.
Raising awareness internally and supplying equipment which is designed with the operator's safety in mind is key; illustrating the risks involved when correct safety precautions aren't followed and how to counteract them can help to increase awareness by using real life examples everyone can relate to.
Hands Free Bolting Ltd, an e-commerce safety product provider has recognised the requirement for safe and simple accessories to form part of companies' preventative injury strategies.
By utilising simple, innovative, easy to use safety accessories, operators can carry out hands-free bolting works, therefore eliminating the pinch risk and other related injuries.
Accessories such as the No-Flog® 2, Back-Up Nut and Safety Valve form part of Hands Free Bolting's product range which are all available to purchase online.
The No-Flog® 2 is a safe alternative to typical flogging spanners and can be used to stop back nuts turning during the make up or break out of bolted flanges and joints. When used alongside the Back-Up Nut, the accessories provide a completely secure solution; the Back-Up Nut allows bolting tools to be held in place at any angle during operation, allowing the operator's hands to be free whilst the tool is in use.
Also available from the online store is an isolation device which is fitted in-line between the pump and tool; the Safety Valve. Designed to provide the operator with complete control of tool operation, the safety valve ensures the operator has no risk of accidental tool activation.
Lynsey Gibbs, Hands Free Bolting's Business Manager comments, "Each product within the Hands Free Bolting product range has been designed to work together seamlessly to offer complete safety for operators. With the risk of both hand and dropped object related injuries increasing, we want to provide our customers with simple preventative solutions to promote safe working. We are committed to a product development schedule to introduce further products to continually support industry in its safety planning and processes."