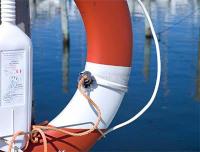 Ocean Time Marine has updated its superyacht safety management system (SMS) software; the first integrated management system to assist with ISM compliance.
The company specialises in safety at sea and ashore and has outlined the ISM Code requirements that vessel operators must follow.
The software guides users through the writing of a safety management system for private and commercial vessel operation. The template asks a range of questions about the vessel and operations. Users can select and customise the procedures, policies and instructions to suit their needs.
Captain Robin Todd of M/Y Never Say Never said, "The SMS software gives yacht operators and managers more control of their safety, to save money and save time on related administration and ensure compliance.
"Writing a SMS can be a time consuming, daunting task, and harder if it's not compliant. Using the Ocean Time Marine SMS software gives yachts a starting platform that is written in a generic acceptable format.