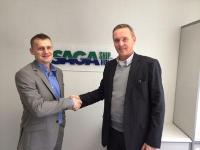 Saga Shipholding (Norway) AS has signed a contract with Dualog for its Crew Surf service. Saga, the open-hatch carrier subsidiary of Nippon Yusen Kaisha (NYK), is an international shipping company specialising in the transportation of forest products and breakbulk cargoes.
Saga has opted for Crew Surf, which provides optimised internet access to Saga's crew. Crew can monitor their own data usage and can buy more Internet time on a self-serve basis. With the Dualog solution, Saga Shipholding is demonstrating its focus on crew welfare as a mean to retain qualified crew.
"We are pleased to sign this contract with Dualog", says Nils Otto Berntsen Bjørhovde, Technical Manager in Saga Shipholding (Norway) AS. "Saga is committed to our crew and we asked them for the top reasons to stay with Saga. On the top list came good Internet services on board! With Crew Surf from Dualog, we are confident of offering good and controlled internet to the crew."
The inclusion of the Saga Shipholding fleet brings the total family of vessels running Dualog services up to 2.200. "This contract strengthens Dualog as the world's leading independent supplier of ship-shore communication services to the global shipping industry", says Morten Lind-Olsen, CEO in Dualog.