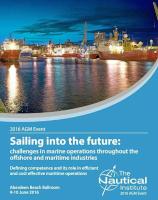 9-10 June 2016, Aberdeen Beach Ballroom, Nautical Institute 2016 AGM. The challenges surrounding the delivery of safe and efficient marine operations throughout the offshore energy and maritime industries will be the focus of the conference. Measures to enhance safe operations, minimise costs and maximise economic control and loss prevention will be examined during the two-day event, organised by the leading global international representative body for maritime professionals, The Nautical Institute.
The step change in competencies, efficient operations and appropriate manning required to achieve this will also be discussed. Aberdeen was chosen to host the AGM conference due to its role as the European operations centre for the oil and gas industry and the significant change occurring within the industry due to the lower for longer oil price environment. Speakers at the event, to be held at Aberdeen's Beach Ballroom, will include Deirdre Michie, chief executive of Oil & Gas UK, and senior marine executives from exploration and production companies, marine consultancies and training providers.
The programme includes examples of offshore ship operation incidents; addressing current levels of shipboard competency; how competency and human element factors can enhance economic and safe operation; Dynamic Positioning (DP) Officer competence; and the relationship between current certificates of competency and the requirements for the safe operation of modern vessels. A selection of highly regarded expert speakers will encourage delegate participation in workshop sessions, which will be attended by maritime professionals ranging from senior managers, sea staff, naval officers, lawyers, surveyors, port and harbour personnel, trainers and many others.
All details can be found at http://www.nautinst.org/en/events/agm-2016/index.cfm