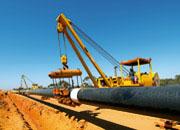 Saipem has entered into a Joint Venture with Dangote Group, one of Africa's leading companies, to create a new company named Saipem Dangote E&C.
Saipem Dangote E&C is a significant new player in the Nigerian and Central/West African market, with high technical and financial capabilities. It aims to secure complex Engineering & Construction projects and ensure a realization capacity focused on efficiency, in terms of costs and timing, and flexibility, in order to respond to different needs related to specific projects, to local content and to the Country's context.
Saipem and Dangote Group have a track record of successful collaboration, drawing on the strengths and competences of both Companies.