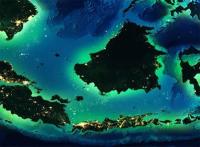 PT Saka Energi is being taken more seriously in Indonesia's upstream oil and gas sector, having grown by making several asset acquisitions in the last few years. While Indonesia grapples with attempts to reform its oil and gas industry in recent years, PT Saka Energi Indonesia (Saka) – a local exploration and production company – is not standing still.
The firm, established in June 2011, has been actively growing its upstream assets, especially in Indonesia, making several acquisitions over the last two years. Saka is a relative newcomer to Indonesia's upstream business, a sector in which national oil company PT Pertamina has been the dominant indigenous industry player.
But Saka appeared unfazed by its late entry into the sector as well as existing regulatory issues – which have stifled the development potential of the local petroleum industry. It aims to produce 30,000 barrels of oil equivalent per day (boepd) this year.
Such a production volume is not insignificant given that Saka was only established four years ago by parent firm PT Perusahaan Gas Negara (Persero) Tbk (PGN) – Indonesia's largest natural gas transportation and distribution company. Rising energy demand – estimated by the U.S. Energy Information Administration (EIA) to have surged 44 percent between 2002 and 2012 – resulted from an expanding economy, which according to the World Bank data shows grew between 4.6 percent and 6.5 percent annually from 2005 to 2012. That combined with declining production at mature fields transformed the former Organization of Petroleum Exporting Countries (OPEC) member into a net oil importer by 2004.