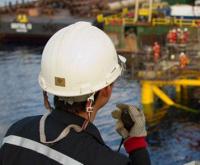 Salamander Energy provides an update on drilling, development and production operations at the Bualuang oil field in the B8/38 concession, offshore Gulf of Thailand. Salamander has a 100% interest in, and is operator of, the Bualuang field.
Facilities Installation
The installation of the oil processing and power generating modules onto the Bualuang Bravo Platform has been successfully completed. This included the lift and installation of the 1,200 tonne processing module and the 550 tonne power generation module. Hook up and commissioning of these modules will now commence.
The next in-field facilities installation will be the Bravo pipeline and FSO riser, to be installed in 2Q 2014. Switching the current FPSO for the new FSO, conversion of which is 60% complete, will take place over the summer 2014. With these new facilities in place, Salamander will be driving down the operating costs of the field by more than $20 million per year.