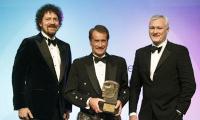 Mike Loggie, chief executive of Saltire Energy has been named Entrepreneurial Scotland Entrepreneur of the Year 2015 at an awards ceremony held at the Thistle Hotel in Glasgow on Wednesday, 25 November.
The annual awards ceremony recognise individuals who have led their business to strong growth in revenue and profits through innovation, teamwork and leadership skills. The awards also highlight the vital role entrepreneurs play, whether leading new or well-established businesses.
This win comes after Mr Loggie was awarded one of the top accolades of the EY UK Entrepreneur of the Year Awards 2015 in October, where he was commended for his hands-on approach and robust business strategy.