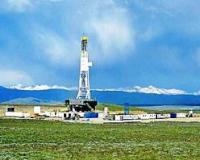 The Little Creature middle Bakken infill has been drilled to a total depth of 19,430 feet, and a 4-1/2' liner was run and cemented to that depth. The Frontier Rig 24 was released on 9 November 2013. Preparations are underway to move the rig to Blackdog 3-13-14H.
Blackdog 3-13-14H (SSN WI 25.03%)
The Tofte 1 pad has been prepared to receive the Frontier Rig 24 for drilling operations on Blackdog 3-13-14H. The rig move and rig up on location is expected to be completed this week. This well will be a middle Bakken lateral and is expected to follow the previously planned Swan trajectory, that is, the infill location between the Rodney 1-14H well (SSN WI 27.18%) and the Sail and Anchor 1-13-14HBK well (SSN WI 25.03%).