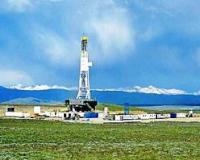 The Blackdog well was drilling ahead at 9,604 feet in the vertical section of the well bore. The kick off point for drilling the curve has been set at 10,769 feet, which is expected to be reached in the next 24 hours.
This middle Bakken lateral well is the infill location between the Rodney 1-14H well (SSN WI 27.18%) and the Sail and Anchor 1-13-14HBK well (SSN WI 25.03%).
Coopers 2-15-14HBK (SSN WI 27.7%),
A clean out trip was run to the liner top and a cement bond and caliper log run. A 4 ½ inch frac string was installed and the first stage ball has pumped, opening this stage in preparation for the stimulation treatment. This frac will be a 22 stage, plug and perf configuration, and is expected to commence on 30th November.