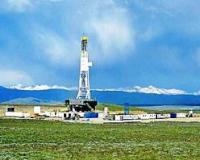 The Rennerfeldt 2-13-HBK well was spudded on January 10th and drilled to 2,450 feet, where the surface casing string was set and cemented. The well was drilled to 10,802 feet (MD) to the kick off point and the bottom hole assembly was tripped out of the hole to be replaced with an assembly to drill the curve. During this operation, two drill collar dies were lost in the hole, requiring them to be milled prior to drilling the curve to 11,500 feet MD.
Rennerfeldt 1-13-H (SSN WI 25.03%)
Rennerfeldt 1 has been drilled to 11,571 feet (MD), where the 7 inch production was set and cemented. The forward operation will be to drill the 4,300 foot lateral in the Middle Bakken once Frontier Rig 24 has completed drilling operations on the Rennerfeldt 2-13-H well.