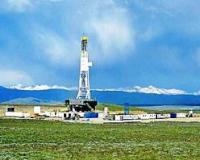 Drilling operations on the Rennerfeldt 2-13-HBK well have been completed with a 3,700 foot cemented liner placed in the Middle Bakken reservoir. The fracture stimulation will take place after the drilling operations on the Rennerfeldt 1-13-H well have been completed.
Rennerfeldt 1-13-H (SSN WI 25.03%)
Currently Frontier Rig 24 is drilling the 3,600 foot lateral in the Middle Bakken at a depth of 13,817 feet measured depth.