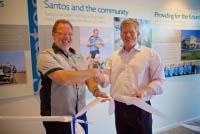 Santos announced that proved plus probable (2P) petroleum reserves were 1,368 million barrels of oil equivalent (mmboe) as at the end of 2013. This represents an organic three-year 2P reserves replacement ratio of 159% and provides a reserves life of 27 years based on 2013 production of 51 mmboe.
While the company did not replace its produced reserves in 2013, strong reserves replacement over the past five years has enabled Santos to maintain 2P reserves at 1.4 billion barrels of oil equivalent, whilst producing over 250 million barrels of oil equivalent in the same period.
Santos Managing Director and Chief Executive Officer David Knox said that Santos' strong reserves base underpins the company's strategy to supply the growing demand for natural gas in Australia and Asia.