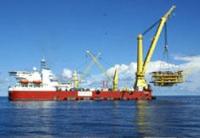 SapuraKencanca Petroleum Berhad's unit SapuraKencana Energy (SKE) has made another gas discovery at Bakong-1, the fifth and final well in its 2014 drilling campaign within the SK408 Production Sharing Contract (PSC) area, offshore Sarawak, Malaysia.
Bakong-1 is a significant discovery with a gross gas column in excess of 1,968 feet (600 meters) in the primary target reservoir located within Late Miocene Carbonates. This discovery augments the earlier announced 4 well discoveries, which completes the 5 well drilling program slated for this year as part of the SK408 work campaign.
The previous 4 wells, namely Teja-1 (gross gas column of 718 feet or 219 meters), Gorek-1 (gross gas column of 770 feet or 235 meters), Legundi-1 (gross gas column of 456 feet or 139 meters) and Larak-1 (gross gas column of 1, 092 feet or 333 meters) also discovered non-associated natural gas within the same Late Miocene Carbonate reservoirs. The 5 discoveries to date have found in excess of 3 trillion standard cubic feet (Tscf) of gas in-place.