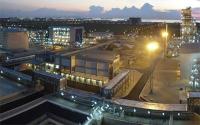 Sasol has selected Technip as the primary contractor for the front-end engineering and design (FEED) phase of its proposed gas-to-liquids (GTL) facility in Louisiana.
"The selection of Technip as FEED contractor is a milestone in the advancement of our GTL facility," said Johan du Preez, executive vice president of U.S. mega projects for Sasol. "With experience as the execution contractor for our ORYX GTL plant in Qatar, and the primary FEED contractor for our proposed GTL plant in Uzbekistan, Technip has the expertise to help us deliver this first-of-its-kind project for the United States."
In December 2012, Sasol announced its intention to build a GTL facility adjacent to its existing site near Westlake, La. Using Sasol's proven, proprietary technology, the proposed facility will convert abundant domestic natural gas into more than 96,000 barrels per day of GTL diesel and other valuable products.