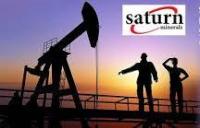 Saturn Minerals Inc. and the Joint Venture Partner, Jaguar Resources Inc. have agreed to amend the Joint Operating Agreement initially entered into May 27, 2014 (see news release dated May 27, 2014).
Under the terms of the initial JOA where a party has proposed a well to be drilled on the joint lands and the other party chooses not to participate, then the non-participating party would agree to farm out 100% of their respective working interest in five contiguous sections, subject to a proportionate non-convertible 1% Overriding Royalty.
Under the agreed to amendment the parties have agreed to amend the non-convertible Overriding Royalty to a 3% Gross Overriding Royalty convertible into a 10% Working Interest in the five contiguous sections, for the non-participating party. The non-participating party would also be entitled to participate in a proposed well on a 50/50 basis provided that its share of the proposed costs of the well are received prior to the spud date or in accordance to the JOA.
The amendment is subject to the approval of the directors of the Company and Jaguar's board of directors and debt provider.