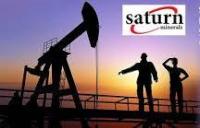 Saturn Minerals Inc. says that Chris Barton, Craig Boland and Curt Maxwell have joined the Advisory Board of Saturn, significantly bolstering the Companies operating technical team with regard to the Company's oil & gas projects.
Chris Barton, P.Geo, is a professional geophysicist with over 30 years of experience across the entire Western Canadian Sedimentary Basin and Williston Basin. Mr. Barton began his career as a geologist at Unocal where he transitioned to the role of geophysicist and thereafter worked and acted as consulting geophysicist at Conoco Canada, Pinnacle Resources, Groundswell Energy and Burlington Resources Canada.
In 2006 he was appointed to the role of Vice President of Exploration at Kereco Energy and was instrumental in the identification, discovery and development of over 70 successful oil wells in Saskatchewan and Manitoba for Reliable Energy which he helped to take it from zero production to over 1,100 boed and was successfully sold to Crescent Point Energy for $97 million in 2012. Mr. Barton is the founder and president of Shadow Energy, a geophysical consulting firm. Mr. Barton has a Bachelor of Science degree in Geology from the University of Calgary (1981).