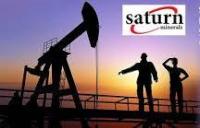 Saturn Minerals Inc. has completed the second and final tranche for 340,000 units in connection with a Private Placement previously announced on March 23, 2015, of up to 4,500,000 flow-through units (the "FT Units") at a price of $0.18 per FT Unit. The Company previously closed 3,200,000 units, announced on April 2, 2015, in connection with the Private Placement.
Each FT Unit consists of one flow-through common share (the "FT Shares") and one-half of a non flow-through share purchase warrant (the "NFT Warrants"). Each whole NFT Warrant will entitle the holder to purchase one additional non flow-through common share, exercisable at a price of $0.30 per share for a period of 18 months from the date of issue of the NFT Warrant. The FT Shares will entitle the holder to receive the tax benefits applicable to flow-through shares, in accordance with provisions of the Income Tax Act (Canada).
The NFT Warrants are subject to an accelerated expiry if, at any time after an initial 4 month hold period expires, the closing price of Saturn's common shares on the TSX Venture Exchange (the "TSXV") exceeds $0.30 for any 20 consecutive trading days, in which event the holder will be given notice that the Warrants will expire 30 days following the date of such notice. The NFT Warrants may be exercised by the holder during the 30-day period between the notice and the expiration of the Warrants.