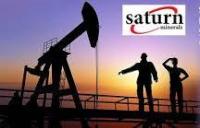 Saturn Minerals Inc. on October 29, 2015 has issued notice to its Joint Venture Partner as required by the Joint Operating Agreement (JOA) between the parties. Under the terms of the JOA, the Joint Venture Partner had thirty (30) days to respond to the drilling notice, and now as the drilling notice period has elapsed without a commitment by the Joint Venture Partner, Saturn will assume 100% of the costs to drill the 9A-5-44-8W2 well.
Additionally under the terms of the JOA, prior to drilling Saturn will pre-select five (5) contiguous sections (3,200 acres) to be earned by the drilling of the 9A-5 well. Upon completion Saturn will have earned a 100% interest in the selected acreage and the Joint Venture Partner will then retain a non-convertible gross overriding royalty of 1%.
Saturn has contracted with North Rim Exploration Ltd. and Axiom Exploration, Saskatoon, Saskatchewan to provide all logistical support and drill for the drilling program.