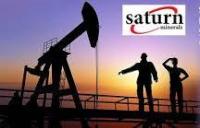 Saturn Minerals Inc. says that road bans in the Bannock Creek Property area have been lifted and property ground conditions have enabled the Company to move a rig and crew to the property. The Bannock Creek exploration well has now been spudded and drilling of the Bannock Creek Well is underway.
Saturn has contracted with West Rock Energy Consultants Ltd. of Calgary, Alta., to provide all logistical support and a drill for the drilling program under the direction of the company's geological team, Craig Boland, PGeo, and Chris Barton, PGeo.
Bonanza Drilling Inc., Brooks, Alberta has been contracted to drill the Bannock Creek well utilizing their Bonanza #1 rig.